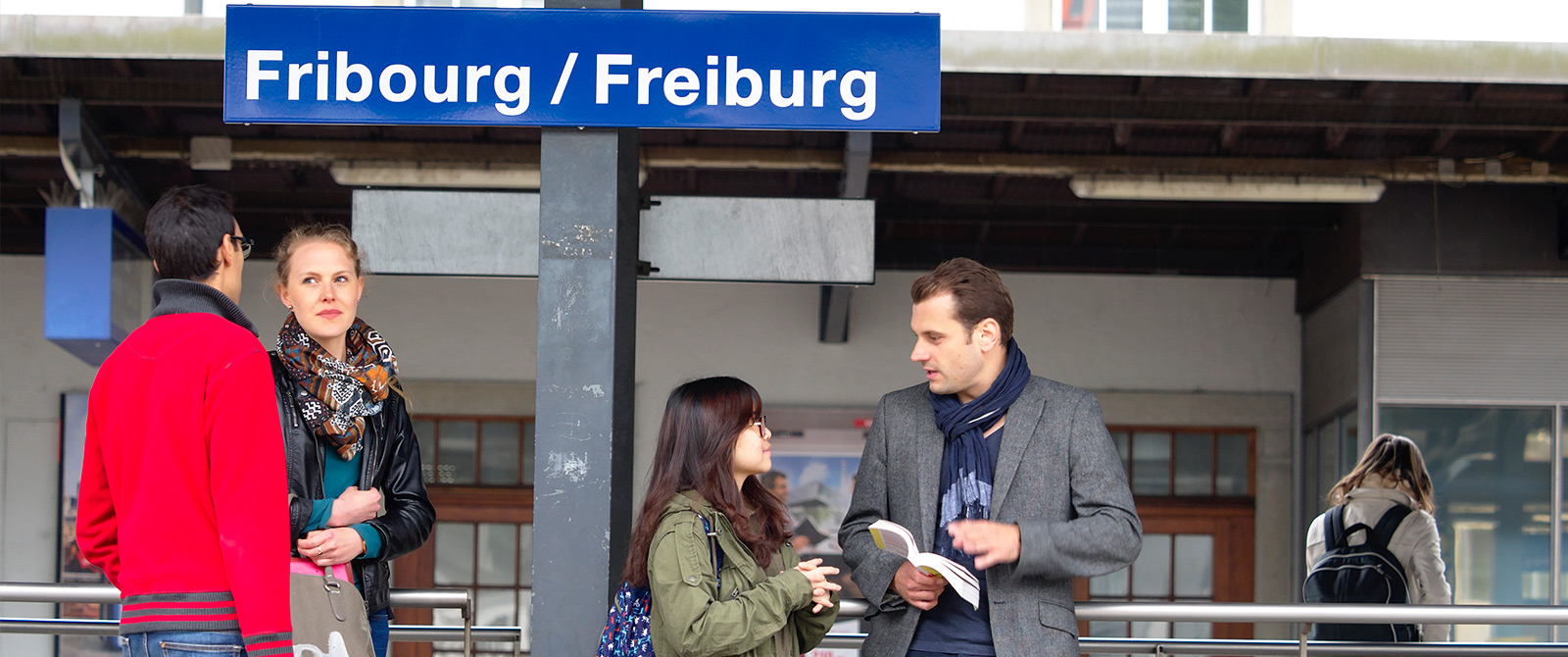 Languages of study
Because it is located in a bilingual French and German-speaking canton, the University of Fribourg is the only university in Switzerland, and in Europe, that offers a full range of courses in each of the two languages.
The University requires all future students to have a full command of French or German within the context of their studies so that they can follow classes and express themselves correctly, both orally and in writing, while at University.
For foreign bachelor candidates, the required level corresponds to level B2 of the Council of Europe's Common European Framework of Reference for Languages.
Many classes, and some entire study programmes, are also given in English.
In addition, during bachelor-level classes, students have the possibility of improving their command of a second language by attending classes organised in parallel to their studies.
Studies in one language
In the majority of cases, students can choose French or German as the sole language of study.
In addition to languages and literature, which are always taught in the corresponding language, some study programmes are only given in German or in French. At master level, some study programmes are only given in English.
Bilingual curriculum
Students must take classes in both languages in study programmes which are partly taught in French and partly in German. The division of languages is set down in the study plan, but students may choose the examination language.
In cases where parallel courses are offered in French and in German, students may follow classes in either language if they wish to. In courses that require the choice of one or more secondary study programmes, they may, for example, choose these study programmes in the second language.
Mention of the languages of study on the diploma

If a course may be taken in French and in German, in principle students obtain a diploma with the distinction «Bilingual curriculum, French/German» if they have obtained at least 40% of the ECTS credits required by the study plan in each of these two languages.

Level of difficulty of bilingual curricula

Holders of a swiss certificate of upper secondary education diploma may take bilingual studies without any further conditions. In general, an average to good level in German or French at high school is sufficient to be able to accomplish bilingual studies without too much difficulty: it is therefore not necessary to be bilingual to undertake studies in two languages. In any case, as long as the study programme permits, it is possible to return to studying in a single language at any time.

«bilingue plus» Training

The University of Fribourg offers students the possibility of completing bilingual studies (French/German) with a course that is unique in Switzerland: «bilingue plus».

The purpose of this course is to help students acquire in-depth language skills in their second language and to give them the necessary confidence in both languages for use in their future profession. Students also take courses in multiculturalism and multilingualism and acquire practical and theoretical knowledge on relations between the linguistic communities.

The «bilingue plus» offer is specifically for students of Law taking a bilingual curriculum.

More information on «bilingue plus» (in French or German)
Language courses
The Language Centre of the University of Fribourg offers courses in French, German, English and Italian to students from all Faculties. In some cases, the ECTS credits obtained can be validated within your degree programme. In addition, legal German and French courses as well as the «bilingue plus» training are offered to students in the Faculty of Law.
The Language Centre also runs intensive German, French and English courses before the beginning of the semester (with course fees).
Self-Learning
The Self-Access Centre for Language Learning provides students of the University of Fribourg with independent or class-related methods and materials for self-directed language learning. Furthermore, the UNITandem platform offers the opportunity to learn languages in pairs.
Tests & Certificates
The Language Centre is also an examination centre for the Goethe-Zertifikat, the Test de connaissance du français (TCF) and the Cambridge Exams.