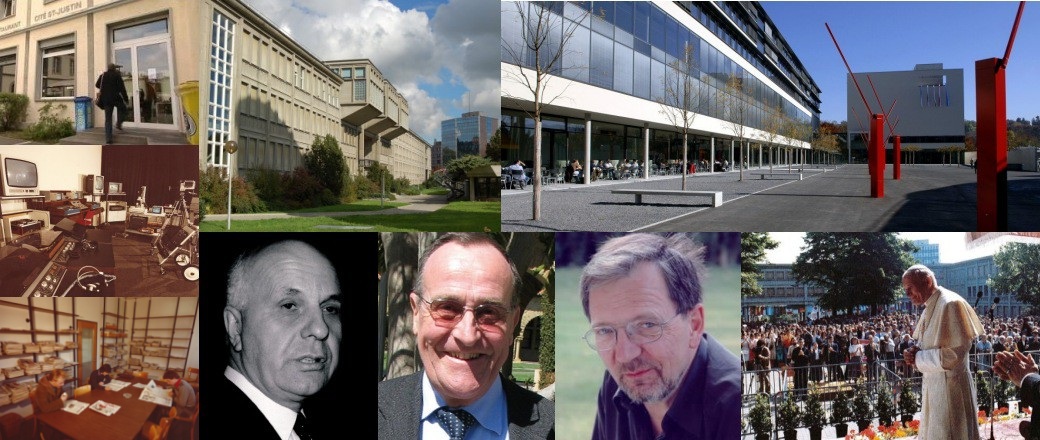 History of the DCM
Journalism, communication studies and media research have a long tradition at the University of Fribourg. To mark the 50th anniversary of the founding of the Institute of Journalism, students of the DCM reviewed the history of the Department and its preceding organisations in the seminar "Jubiläum multimedial: 50 Jahre Institut für Journalistik/DCM" in the autumn semester of 2015. Their contributions can be read here.
Project Team
Direction: Prof. Dr. Philomen Schönhagen, Dr. Daniel Beck, Dr. Franziska Oehmer, Mike Meißner.
Authors of the contributions: Clarisse Aeschlimann, Aline Clauss, Ursin Maissen, Sonia Parani, Magdalena Sedlaczek.
Acknowledgements
Sincere thanks go to our interview partners Prof. Dr. Louis Bosshart, Prof. Dr. Heinrich Bortis, Anne-Marie Carrel, Heimke Peiry and Boris Boller, who kindly agreed to have their memories recorded. Our thanks also go to them for providing research documents. Our thanks also go to Melchior Etlin and the Swiss Catholic Press Association (SKPV), as well as Verena and Iso Baumer-Müller, who also provided valuable information for the realisation of the multimedia contributions for the jubilee.