The Master in International and European Business – a highly attractive programme for foreign students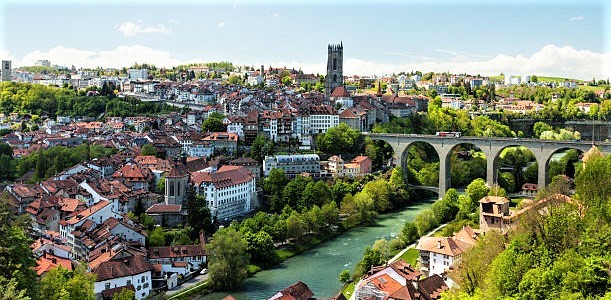 The Master in International and European Business is a management-oriented Master with a strong emphasis on international management. The programme is designed to teach the necessary concepts and tools to manage international companies as well as to build intercultural awareness and soft skills that are necessary to be a successful and valuable member of an international management team. The programme is taught fully in English, but you are also free to take some courses in French or German, if you wish.
This master programme lasts 3-4 semesters. For more information about the master programme, just browse on this website, or visit the website of the Faculty where you also find a brochure. For information about the admission and to start the admission process, please see the admission website of the University of Fribourg. It is noteworthy that this programme is located at a public Swiss university, i.e. in a country with one of the best education systems of the world (see World Competitiveness Report, pp. 534ff.).


Being a public university, the semester fees are < 1'000 CHF. You must of course consider the cost of living in Switzerland, but Fribourg is relatively affordable.


In a recent student survey (Fall 2020), 90% of our current students say that they are (very) satisfied with the Master in International and European Business. 85% of our students state that they would recommend this master programme to their friends and relatives. This positive feedback also comes from students from Vietnam.


In the last years, a number of students from Vietnam came to the University of Fribourg for their master's degree after a bachelor in Vietnam. Our Vietnamese students have successfully studied in Fribourg. They enjoyed the atmosphere and the high-level education that we provide. Here is how they experienced studying in Fribourg.
Statements about the Master in International and European Business from Vietnamese students
NGUYEN Thanh Thao

Bachelor of Arts in Human Resources Management at the National Economics University Hanoi (2019)

Studying at the University of Fribourg is one of the best decisions I've ever made. What I appreciated the most, firstly, was the international environment of the university. I had the chance to work with people from different backgrounds globally through a lot of teamwork experiences. Secondly, the teaching quality here is fantastic. Outside of the lecture, I can freely contact my professors and ask more questions, which can hardly happen if you study at other large-size universities. Lastly, the University of Fribourg has a robust international network within Switzerland and around the world. Thanks to my study at Fribourg, I had the chance to be an exchange student at 2 other universities during my Master's. The experiences helped enrich my knowledge and provided me an opportunity to understand the culture of different regions.

NGUYEN Ngoc Tram

Bachelor from the Foreign Trade University in Ho Chi Minh City (2013)

My master's studies at University of Fribourg turned out to be one of the best experiences in my life so far. As I feel grateful for the experience I have with the University of Fribourg and Switzerland, I have recommended any friends of mine who are planning for their study abroad as University of Fribourg is a very good choice thanks to their supportive academic system (program, professors, methodology...). Knowledge from the master program here is rather practical, especially when I need to systemize what I have experienced from the real business world for years. I would say flexibility, high quality, supportiveness and systematization is how I would like to describe the program.

I have enjoyed the peaceful landscape and neutral mindset in Switzerland, yet also made new friends from all around the world thanks to the diversity of the country's population. While Vietnam to me is a country for individuals to grow, it's the opposite in Switzerland, I feel that I am able to "root" my base here. Subtly root into the ground to form the solid foundation for my future career as well as a well-being life. While writing these words, I was walking on a peaceful path near the university, looking at the beautiful autumn leaves, and (coincidentally) listening to "What a wonderful world". The song just told everything about my life in Switzerland as a student.

NGUYEN Ngoc Truc Thao

Bachelor from the
International University in Ho Chi Minh City (2015)

It was a wonderful experience for me studying in Fribourg University. All the courses are interesting, well-organized between academic theories and practical examples. Professors are nice and always willing to support me. Besides, I had chances to meet new friends from different countries and work with them in group assignments. Thanks for those assignments, I could improve my teamwork skills, especially in a multi-national team. Studying abroad is surely an advantage for me to apply for a job in Vietnam. Recently, I have started a marketing job at a foreign company. I can apply what I have learned and handle daily problems in my job. Living in Fribourg and Switzerland as well is an unforgettable experience in my life. The country is so peaceful with beautiful and breathtaking scenery. The Swiss are so friendly. The transportation is convenient and comfortable. I can travel to other Schengen countries without any extra visas.

VO Ngoc Mai

Bachelor from the
International University in Ho Chi Minh City (2014)

No words can describe my gratefulness for the education I received at the University of Fribourg. Thanks to the courses on auditing, I have found my place in Deloitte. Those courses have prepared me well for the professional settings and career. Every time I am in a meeting or give my client an advice on process transformation, I can't help but think about the path that the University of Fribourg has taken me to. What I liked most about my studies in Fribourg was probably the communicativeness that every professor in Fribourg had given me during my study there. The size of each classroom provides the perfect environment for open discussions and intellectual exchanges between the students and the professor. Without fail, all my professors had been nothing less than supportive and informative in answering my questions. Fribourg is a small yet student-centric city with enough tranquility and affordability (compared to other places in Suisse). I also love the central location of Fribourg. Switzerland-wise, the country has some of the most open-minded people I have met.

LE Ngoc Bich

Bachelor from the

Banking University in

Ho Chi Minh City (2014)

My two years studying at the University of Fribourg offered a unique experience of learning as well as self-discovery and development. The professors not only provide high-quality courses that are relevant and essential in today's business world, but also encourage students to think critically, discuss and back up their point of view with arguments, which built up both my knowledge and confidence. Besides, the university created a pleasant environment allowing a healthy balance between social activities and studying with a wide variety of student clubs/associations, sport courses and language courses on offer for free. During my study, I also had a chance to make friend with other students from different places all around the world and travel around Europe, which was a real eye-opener for me. Most importantly, earning a master's degree from the University of Fribourg has brought me many opportunities across a diversity of professional as well as academic avenues. Today I have found a PhD position in Switzerland to continue pursuing my academic career. I would not have had this opportunity without my study in Fribourg.

TRAN Ngoc Bao Son

Bachelor from the
Nha Trang University (2014)

What I liked most about my studies in Fribourg is the educational environment: library, internet connectivity, friendly supports from teachers and teaching assistants.

Studying in Fribourg also helps me a lot to get my career started. Especially, Swiss-accredited degrees are highly recognized in recruitment procedure of MNCs and TNCs in Vietnam and other nations like Singapore, Malaysia, Japan, and Korean.

The things I liked about living in Switzerland are the stunning unique beauty of its landscape, the food, Swiss culture, and Swiss business manner, which is of huge difference from Asia's business environment.

KATOLIK Hau

Bachelor from the
Banking University in

Ho Chi Minh City (2014)

Studying in Fribourg would absolutely be one of the best choice for Vietnamese students.

The thing I like the most in Fribourg is the facility. Fribourg has a great condition for self-learning, group meeting as well as other after-course activities.

My best impression when living in Fribourg is the people. Swiss people were all so polite, nice and very kind to us. I am eternally grateful for all the help I got during the time I was there.

NGUYEN Hoang Linh

Bachelor from the
International University
in Ho Chi Minh City (2014)

What I liked most about my studies in Fribourg is the international environment, including Swiss, Asian, French, German and many more. People are really friendly and I can easily use both English (and French sometimes) to communicate, especially at the University of Fribourg.

The education system in Switzerland is at a total different level from what we have in Vietnam, therefore I always appreciate everything that I learned in 2 years. The things I liked about living in Switzerland are its landscapes, nature, and fascinating destinations. I get to travel a lot and enjoy the most memorable period of my life. Fribourg is the most enjoyable city to live in: the city is not for high costs, the atmosphere is chilling and comfortable all the time, people are friendly, and the location is best to go to all other cities in Switzerland, also to France and Germany.

BUI Bao Duy

Bachelor from the
Hoa Sen University (2015)

What I liked most about my studies in Fribourg is great support from professors and teaching assistants, good facilities and flexible schedule.

Studying in Fribourg also gives me strong knowledge in Business analytics and broadens my network with people from different countries.

The things I liked most about living in Switzerland are beautiful landscape, peaceful and safe atmosphere.

BUI Gia Bao

Bachelor from the
University of Economics in Ho Chi Minh City (2016)

I really appreciate the quality of the courses provided by the University of Fribourg. One and a half years studying here helped me a lot in creating a strong knowledge foundation about international business. And very importantly, the university is a part of a strong international network, which allowed me to follow the dual degree program (in partnership with EM Strasbourg). The program as a whole makes me more confident about my understandings and opens up many opportunities for my future. I am now doing my internship in an international company in Belgium. The knowledge I have learnt helps me understand better the logic of many business processes in my company and catch up the work faster. Besides the diverse culture, the polite Swiss people, and the developed infrastructure, I'm amazed by the picturesque nature of Switzerland. Moreover, the location of Fribourg and Switzerland in Europe permits me to travel to other European countries with ease, which helps enrich my experience and multicultural competences.