I have been enrolled as host PhD student at University of Fribourg since spring semester 2017, when I got my first Swiss research scholarship. My research has in view the elaboration of a critical edition of a medieval Latin grammar (Alcuin of York's Ars grammatica). Even if my field of study primarily concerns classical languages and text editing, many of the secondary sources that I need are in German; thus, it is compulsory for me to acquire the necessary knowledge in order to be able to read in this language.
Read more
Once in Fribourg, two things impressed me in what the study of modern languages is concerned: first, that there is a well-structured language centre that offers classes of different languages, for different levels. Second (and maybe the most amazing for me), that the classes are free of charge! Needless to mention that I enrolled immediately in the German class that I needed, according to my level that I tested using an online test offered by the university. I have soon realized how good the infrastructure of the classrooms is, how well equipped the library, how experienced the teachers in what regards teaching to multi-cultural and multi-lingual groups of students!
Therefore, studying German at the Centre de langues Fribourg proved to be a fantastic experience, which helped me visibly improve my German skills for the first time in my life (after I have already studied German in high school for two years). For this, I am thankful that Centre de langues exists and I am positive that is has been helpful for many students that followed its courses!
— Isabela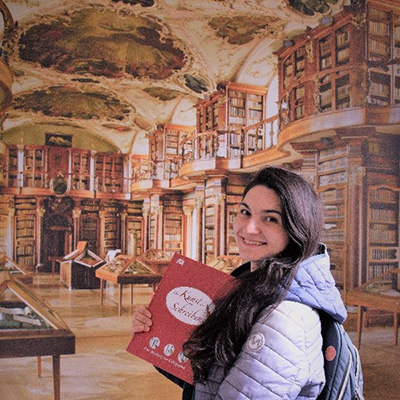 Als ich meine Kurse im Sprachzentrum begann, nämlich "DaF für akademische Mitarbeiter" und " Schweizerdeutsch verstehen", erwartete ich ein fortgeschrittenes Sprachwissen zu erwerben. Das war sicherlich der Fall! Außerdem gaben mir die Kurse die Möglichkeit, über meine laufende Forschung zu reflektieren und sowohl formal als auch informell im breiteren akademischen Kontext der Schweiz zu kommunizieren. Dank dieser Kurse bin ich einen Schritt weiter in der Durchführung meines Forschungsprojektes.
— Zorana, wissenschaftliche Mitarbeiterin im Institut für Mehrsprachigkeit
J'ai fréquenté le cours de FR C2 en tant qu'étudiant étranger en visite pendant le semestre de printemps 2018. J'ai trouvé un environnement qui m'a mis à mon aise et m'encourageait à participer activement aux leçons sans crainte. Les activités en classes et les devoirs sont bien équilibrés pendant le semestre et toujours engageants. Tous les exercices et les tests du cours m'ont beaucoup aidé à me préparer au test DALF C2 que j'ai réussi en juin. Un cours à faire pour qui veut améliorer son français.
— Mathieu
Ich freue mich, während meiner Studienzeit in Freiburg einige Deutschkurse besucht zu haben, die mir sehr nützlich gewesen sind. Im Moment arbeite ich in Visp, in der Kommunikationsabteilung einer bedeutenden Firma: Es war eine grosse Freude, diese Position zu bekommen!
Ich möchte auch darauf unterstreichen, dass ich während des ersten Vorstellungsgesprächs in Visp gefragt wurde, ob ich in der Lage war, einen mündlichen Vortrag zu halten. Und ich war stolz darauf, sagen zu können, dass ich einen Kurs zu genau diesem Thema besucht hatte.
Meine persönliche Erfahrung zeigt, dass die vom Sprachzentrum angebotenen Kurse sehr nützlich sind.
— Mirella