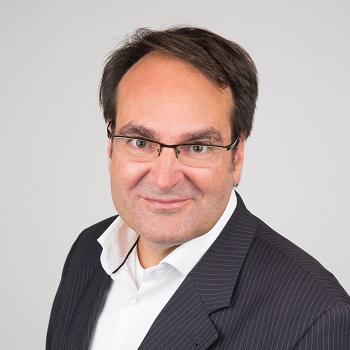 Chaire Ressources Humaines et Organisation
Université de Fribourg
Bd. de Pérolles 90
CH-1700 Fribourg
Bureau E424 Bâtiment 21
Tel: +41 26 300 82 40
E-mail: eric.davoine(at)unifr.ch
Please contact Professor Davoine by email to set up a meeting.
Please follow the links for a complete list of Professor Davoine's publications and his full CV (in French).
Curriculum Vitae
Eric Davoine studied management at the ESCP Europe (Paris-Oxford-Berlin) and sociology at the University Lyon. He gained PhD degrees (Dr. rer. pol.) from both the University of Freiburg i. B. (Germany) and the University of Lyon (France). He also graduated 2007 from the International Teacher Program at IMD in Lausanne.
He has been appointed in october 2003 as a full professor at the University of Fribourg (Switzerland). From 1993 to 1998, he was PhD student in the DFG research programme of the Frankreich Zentrum of the University of Freiburg i.B. as well as research assistant and deputy manager of the center. From 1998 to 2003, he was Maître de conférences at the University of Mulhouse, where he led a Masters' program in International Management specialized on German speaking countries and a program specialized on Switzerland.
Since 2003, he was in charge of various administrative and management tasks in Fribourg as a Vice-Dean of the FSES (2005-2007 and 2015-2016), as president of the professoral community (2011-2013), or as a board member for three institutes (VMI, ZEUS and IIEDH) of the University of Fribourg. He has been a member of several university commissions and committees, e.g. the university appeal board since 2014 and the IT commission since 2019. He has been since 2003 board member of the AGRH (association of French speaking HRM researchers), vice-president from 2007 to 2014; general secretary from 2018 to 2020).
As a researcher, he is a board member of the SNF NCCR LIVES on life courses (www.lives-nccr.ch) and a board member of the SNF-Sinergia project about Swiss elites.
Beyond bachelor and master classes for undergraduate and graduate students, Eric Davoine takes part in executive education programs as a trainer and as a board member of the CAS "philosophy for managers" at the University of Fribourg and of the MAS in HR of 4 Swiss universities (www.masrh.ch). He was visiting professor or guest speaker in numerous masters' and PhD programs of Universities and Business schools (ESCP Europe, Paris Dauphine, Freiburg i. B., IAE Rennes, HEC Paris...). He is also in charge of the classes in Introduction to Management at UniDistance ( Swiss blended learning university bachelor program).
Eric Davoine is a regular reviewer for Swiss and international research funding institutions (SNF, HES-SO, ANR, FRNS…) as well as for scientific journals. He is a member of editorial or reviewer boards of following journals:
In the past 5 years, he has also acted a reviewer for International Journal of Human Resource Management, Journal of Global Mobility, International Journal of Training and Development and European Journal of International Management. He contributes regularly to the Swiss professional magazines HR Today and Persorama.
Selected publications
Selected publications
Pedro Araujo, Eric Davoine, Pierre-Yves Donzé
Banking elites and the transformation of capitalism in Switzerland: A prosopographic analysis (1890-2020)
In: Business History, 1-25, 2023.
Site web
Eric Davoine, Stefan Schmid
Career patterns of top managers in Europe: Signs of further globalisation?
In: European Management Journal, 2022.
Site web
Christoph Barmeyer, Eric Davoine, Peter Stokes
When the 'well-oiled machine' meets the 'pyramid of people:' Role perceptions and hybrid working practices of middle managers in a binational organization – ARTE
In: International Journal of Cross Cultural Management, 28(1), 1-11, 2019.
Open Access
Christoph Barmeyer, Eric Davoine
Facilitating intercultural negotiated practices in joint ventures: The case of a French–German railway organization
In: International Business Review, 28(1), 1-11, 2019.
Open Access
Eric Davoine, Stéphanie Ginalski, André Mach, Claudio Ravasi

Impacts of globalization processes on the Swiss business elite community – A diachronic analysis of Swiss large corporations (1980-2010)
In: Research in the Sociology of Organizations

Special issue: Elites on trial, Research in the Sociology of Organizations, G. Morgan, S. Quack, P. Hirsch (eds.), Vol. 43, pp.131 - 163, 2015.
Claudio Ravasi, Xavier Salamin, Eric Davoine
Cross-cultural adjustment of skilled migrants in a multicultural and multilingual environment: an explorative study of foreign employees and their spouses in the Swiss context
In: The International Journal of Human Resource Management, 2015.
Eric Davoine and Claudio Ravasi
The relative stability of national career patterns in European top management careers in the age of globalisation: A comparative study in France/Germany/Great Britain and Switzerland
In: European Management Journal
Volume 31, Issue 2, April 2013, Pages 152-163.
fulltext online