Environmental Mineralogy
Fine natural (mineral) and anthropogenic particles suspended in the atmosphere have a large, still poorly known, impact on climate. Human health is also affected by particles. Our methodology is based on sampling with impactors or electrostatic sampler and analysis with electron microscopy based single particle analysis.
In collaboration with Prof. Weber's group at the FH Düsseldorf and with Dr. Tullio Ricci at INGV in Rome we have several projects dealing with the emission and impact of volcanic aerosols.
Together with the Trinational aerosol research network and with the start-up company Particle Vision we are also involved in projects dealing with the emission, dispersion and the toxicity of natural and anthropogenic nanoparticles.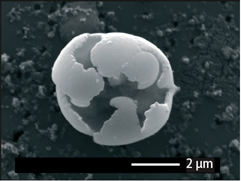 Iron oxide particle sampled adjacent to a rail way track. The shape and morphology suggests, that it was emitted as a liquid droplet formed by the friction between wheel and rail.