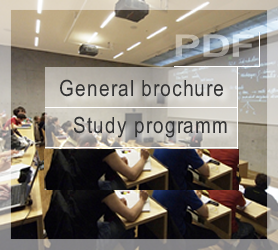 PROGRAMME DESCRIPTION
Due to the continuous expansion of the information society, managers and political leaders have more than ever a need of reliable information and exploitable data as a basis for decision making.  To this end, the use of information systems and secure access to the internet are vital.  Information and communication systems constitute the foundation of information systems.
OBJECTIVES OF THE PROGRAMME
Studies in information systems will provide you the competence to propose solutions to companies' requirements, taking into account the economic problems of the company and the criteria of information systems.
The construction or continued development of an information system is a rigorous activity, to meet the desires and requirements of its user, while developing clear advantages of the system. For the implementation, the economic conditions have to be taken into account as well. In other words, to professional skills must also be added methodological and social skills.

Methodological skills
The course modules and practical problems, as well as team works and case studies will boost your skills in managing projects. Within a team, you will experience the different variants of a successful process, you will plan tasks and evaluate the costs, you will work with IT-based methods for project management and project evaluation; you will collect feedback from students in your group, from assistants and professors.

Professional skills
You will master the basics of software development including needs analysis, project and design of information systems assisted by computer. You will perfectly know the methods and techniques of decision-support systems. You will know how to train users and how to modify web platforms. With your experience in economy, your attention will also focus on development costs.

Social skills
You will learn to assess opportunities and risks of using information and communication systems. You will observe the effects on the organisation and on individuals. Through works in groups, you can acquire the necessary skills to lead a team, motivate and support your colleagues. The laboratory works in team, your participation in discussion forums and presentation solutions in groups will help you to develop your social skills.
---