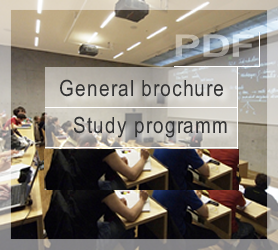 PROGRAMME DESCRIPTION
Economics is part of the Human and Social Sciences. Its aim is to understand economic and social phenomena and to present them in an organised and coherent system.  Its subject is society:  how do people decide, for example, about their consumption, their work, and how do they interact with one another?
Of key importance, economics investigates interventions of governments and the processes of the civil society (on a national and international level) that influence production, distribution or consumption of goods.
OBJECTIVES OF THE PROGRAMME
A solid general training as economist will allow you to understand and to analyse in a consistent way questions and challenges of how markets and the public economy function. The purpose of the bachelor training is to give you methodological, professional and social skills.

Methodological skills
As scientist, you will be taught the fundamentals of economic theory and the analytical skills to test hypotheses and propositions with scientific methods, to analyse data and to give policy recommendations based on scientific findings. Your contribution will be to emphasise the economic point of view and to develop a procedure that allows to integrate in a consistent way different points of view (ethical, sociological or political) to reveal their complementarities or contradictions.
Professional skills

Contribution to knowledge creation: understanding of economic processes and relations under changing conditions
Economic analysis and forecasts, based on theoretical and empirical findings as well as experience to answer an economic question in a reasoned and consistent way
Mastering the set of analytical tools and econometric tools
Economic advice: advise decision makers on options to achieve their objectives or on consequences of various possible policies
Diffusion of economic knowledge: clearly communicate economic phenomena and economic relations , e.g. in public media

Social skills
Thanks to working in groups, you will acquire the necessary capabilities to collaborate, share responsibility or to lead a team; you will learn to motivate and support your peer students.
---