News-Archiv
Decentralisation practitioners meet international federalism experts
Practitioners Course, 19-30 March 2012
During the last Practitioners Course on Decentralisation and Local Governance in Fribourg (19-30 March 2012) practitioners from many different countries met with some of the guest researchers of the Institute of Federalism to debate concepts, to share common visions and to exchange ideas about decentralisation, federalism and local governance.
The program started with a series of short presentations. Dr. Nkwachukwu Orji a Research Fellow from the Institute for Development Studies of the University of Nigeria and currently a guest researcher at the Institute of Federalism presented his study on party organization in federal states. By comparing and conceptualizing party systems in Switzerland and Nigeria he was able to highlight some of the peculiarities of these systems in federally organized countries. Hamidouche Hocine, also a guest researcher at the Institute of Federalism, discussed the federal option in his home country Algeria with the practitioners and showed how Algeria's political culture already contains some federal characteristics.
The presentations were followed by a lively discussion with comments and questions from the practitioners and the Institute's Professors. The meeting promoted the creation and the sharing of knowledge between academics and practitioners in the field of decentralisation and was very much appreciated by all the participants.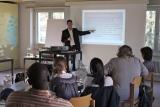 Hamidouche Hocine from Algeria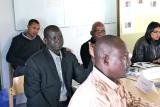 Participants of the Practitioners Course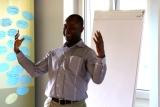 Dr. Nkwachukwu Orji from Nigeria