News-Archiv
Summer University 2016 - Final report
The Institute of Federalism held its 27th edition of the Summer University on Federalism, Decentralisation and Conflict Resolution in Fribourg from 22 August to 9 September 2016. Federalism and decentralization are ever-increasing in popularity not just as a tool for power-sharing but also as a means for ensuring good governance, fostering democracy and contributing to development. These concepts are important in both stable as well as conflict-ridden societies and can play a role in post-conflict situations. The three-week course was supported by the Swiss Agency for Development and Cooperation (SDC).
On this edition, 37 participants from 23 states as Costa Rica, Zimbabwe, Nepal and Russia followed the rich program of the Summer University. During the first week, the aim was to give participants theoretical and interdisciplinary approaches to federalism, decentralisation and conflict resolution highlighted by various case studies such as federalism and decentralisation in Switzerland and Belgium and models of conflict resolution. During the second week, Power Sharing and Conflict resolution were addressed through case studies from Italy (South Tyrol), Yemen, South Africa, Ethiopia and Bosnia-Herzegovina. During the final week, participants dealt with diversity in varying aspects: balancing fiscal disparities, accommodating linguistic and religious differences and dealing with plurality in state administrations. The course was concluded by a presentation, elaboration of possible constitutional principles and a lively discussion on Sri Lanka, which currently rewrites its constitution after three decades of war. The confrontation with concrete political realities and constraints, the need to bargain and compromise as well as the (newly) acquired practical knowledge from case studies and theoretical framework was the keystone of the Summer University.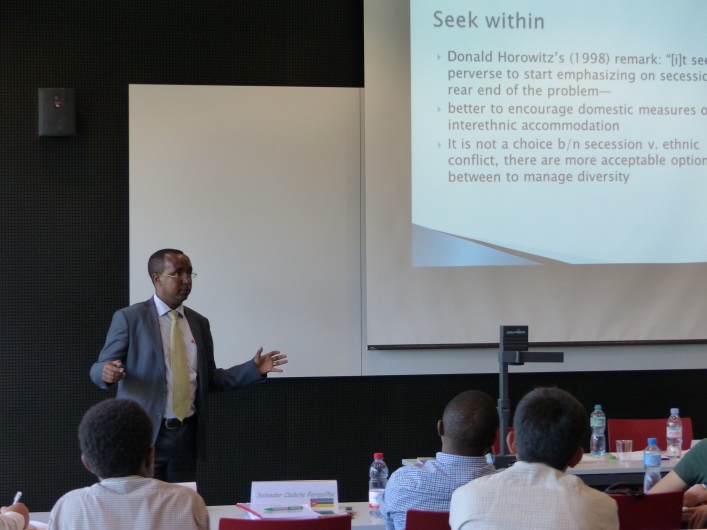 Prof. Assefa Fiseha elaborating on the Ethiopian case.